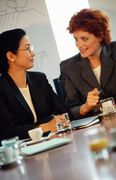 Introduction
The Advantos Enterprise A/P module has its own month-end processing routine aided by a specific checklist to guide you through the process. This process balances totals, prepares monthly reports packages, and purges data no longer needed. It also updates vendor balances and totals, cleans up paid and posted invoices, and clears out all paid invoices, checks, and purchase orders older than the configured archive value. Once this process is completed, A/P will be ready to operate in the next monthly accounting period.
One key point to understand is the Financial Period, defined as a month and a year, which displays on the main screen for each module. If you use the Advantos ® Payroll module then it must be updated prior to the A/P module. This ensures that all tax invoices are processed in the proper payroll month. The G/L update cannot be done until after A/P has been updated. Note: the A/P module cannot be mainained more than one month in advance of the G/L module.
Process Final Check-Run
Before starting the end-of-month update, complete the LAST check run for the processing month, including any voided checks or other corrections.
Set End-of-Month Processing Flag
When you set the End of Month → EOM Flag, any effort to create A/P transactions will be result in an alert being presented to the user, i.e setting this flag will restrict the ability to post additional transactions. Any user who does not have update or system administrator security levels will receive an error message if they attempt to enter transactions.
Validate Cash Totals
This process validates the totals for checks, G/L postings for cash, and bank transactions created from A/P checks. An error message will be displayed of these tests don't balance.
Vendor Invoice/Balance Test
Located under the Accounts Payable reports sub-menu, this report adds all unpaid invoice amounts vs each vendor balance and reports if these two totals don't balance.
Generate EOM Reports
This process generates all EOM reports for financial files. The output is created in the 'FTP' file in the Management Company's reserved directories on the Advantos SFTP server. These directories can be accessed via Bitvise SSH Client (formerly Tunnnelier).
Process End-of-Month Update
The process will update A/P to the new month for all clients on your system. Vendor month-to-date data is cleared, paid and posted invoices are deleted, current postings are updated to the G/L System, and finally, the current processing month is set forward one month. Also the year-end update will automatically occur when updating December of any year. When you are ready to being the update - from the Accounts Payable menu, select End of Month → EOM Update. Click on Proceed
Prepare Vendor 1099 Forms
Prepare the annual Federal Form 1099s for appropriate (defined) vendors. These forms can be created after the EOM update in December of each year. Since the 1099 forms are annual they are printed in January of each year.