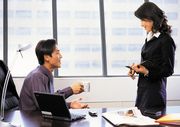 Introduction
The Advantos Enterprise Accounts Receivable System is designed to allow an operator to easily process charges (invoices), credits, payments, deposits, and reversals. The system also allows for streamlining the issuance of monthly statements and monitoring the collection of receivables.
All modules, including the A/R module, have been redesigned to take advantage of the Address Book, which allows the operator to search quickly for the name record desired without knowing the record number, and to sort all records by last name, eliminating the need for special numbering systems to alphabetize customer names. The statementing process has been designed to allow the user to customize invoices and statements by using corporate letterhead. In addition to your own corporate letterhead, you may use separate letterhead for each of your clients. The statement program has been designed to tell you how many of each is needed if you run statements as a batch. Another enhancement changes the way deposits are created. This process is separated from the payment posting process. Now, an operator can post payments continuously throughout the day or for several days, then run deposits as a batch. Deposit slips are now generated on the laser printer, using the same micr-encode technology the check-writing process uses. This change alone eliminates much of the work of preparing deposits for the bank, including the ordering and storage of client deposit slip books!! There is also the ability to reprint one or all deposit slips, similar to the Accounts Payable check reprint process.
Customer Account Maintenance
An important feature, giving the ability to create a customer data base, containing billing and payment totals, and permitting the generation of billing statements. To speed customer service, customer information is available through on-line transaction history and selected reports, assisting operators to respond rapidly to customer questions and phone calls. Customer numbers are now assigned by the system. You can generate charges or credits at any time, printing reports (invoices) reflecting them, or they can be reflected on monthly statements. A key design element of the process for creating an invoice is the ability to allocate expenses to multiple G/L accounts. In addition, charges or credits can be set up to occur automatically on a customer account, which saves time and data-entry errors.
Posting Payments
There is a separate posting screen for payments. You may post a payment to the account, as an advance payment or as an unapplied payment. The payment is not updated to the account balance or the bank account until a deposit is processed, allowing changes to be made to entered data. If the posting is incorrect, it can be changed without a reversal being necessary, and without the transaction history being affected. At any time, you can list undeposited payments, both on the screen, or by running a report. In addition, to be sure an operator is aware of all transactions, as soon as the payment is posted, a flashing message alerts anyone pulling up an account a payment has been posted, but not deposited. Payments are not immediately applied to invoices unless the payment equals the total invoices. At month end, prior to running reports, the operator must look at a delinquency report and apply any payments the system was not able to apply to invoices. This may eliminate some customers from delinquency status. This step is included in the Month-End Checklist.
Bank Deposits
The Accounts Receivable System has now been redesigned to allow for processing deposits as a batch. This feature, along with the system printing of deposits slips has substantially improved the effectiveness of the software product.
Invoices and Statements
There has always been the ability to print invoices and print statements in the A/R System, but recently, this feature of the system has been enhanced to improve the appearance of the final product. The actual documents have been changed to look more like a printed form and can be customized for your company and your clients by printing on individual letterhead. You may also create "No Charge" invoices for information purposes.
Reports
Numerous standardized reports have been designed to provide both management and operations with feedback on receivable agings, collections and cash receipts. An important feature of this software package is the ease with which current reports can be modified or new reports tailored to specific needs.
Miscellaneous Utilities
Several different labeling choices are avilable which allow the data base to be sorted for mailing.
End-of-Month Processes
These processes are performed at the end of the monthly accounting period. They include generating monthly statements to send to your clients, special billings processes, updating the A/R System transactions to the General Ledger, and creating automatic monthly invoices. Monthly updating to the General Ledger System must occur to ensure accurate financial information. This monthly process has been streamlined and a checklist is available to take the operator quickly through the necessary balancing and review steps. Included in the end-of-month processes is a special process which has been designed to partially automate the process of billing back clients for services performed. It involves transactions in both the Accounts Payable and the Accounts Receivable Systems, essentially allowing client payments made in A/P to be posted automatically as invoices in A/R, so a deposit can quickly be made in A/R using the checks generated in A/P. This process becomes a great time-saver if a large number of clients are being serviced.